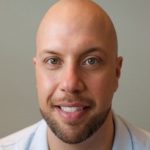 Carlo Marcoccia RMT
Registered Massage Therapist
Available for in-person appointments
Carlo is a Registered Massage Therapist with a passion for health and wellness. After graduating from Sutherland-Chan School & Teaching Clinic in 2011, he was fortunate to gain experience in a number of different clinics to help shape his craft. The physio, rehab and naturopathic sectors in which he has worked have given him fundamentals in a variety of diverse clinical settings.
During his time at Sutherland-Chan School & Teaching Clinic he developed the necessary skills to be a client-based therapist.
"I learned to be attentive to details," says Carlo, "from the small to the large. Also, to narrow down a client's spectrum of ailments and help free the client of their pains & stresses."
Through his work at the Toronto & Scotiabank Marathons, Carlo sees the need for appropriate workout warm-ups and cool-downs – including massage therapy can help your muscles prepare and recover quicker.
Carlo has worked extensively with people suffering from:
headaches and migraines
sleeping and anxiety issues
digestive and GI issues
fibromyalgia
frozen shoulders
stroke effects
chronic pelvic pain
pre- and post-natal concerns
and a variety of sports injuries and motor vehicle accidents