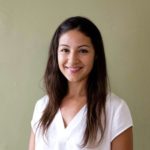 Dr. Elena Rossi ND CTP Dipl Can
Naturopathic Doctor, Therapist in Training
Available for virtual appointments, and select in-person appointments
Elena is a board certified Naturopathic Doctor with 10 years of post-secondary education in science and healthcare, including a BSc from the University of British Columbia, MSc from the Faculty of Medicine at the University of Toronto, and ND from the Canadian College of Naturopathic Medicine. She is currently a therapist-in-training at the Centre for Training in Psychotherapy.
Elena offers treatments for a range of health concerns with a special interest in mental health – especially anxiety, depression, sleep disorders, addictions, and trauma recovery. She also has experience working with eating disorders and is passionate about supporting people through all of the complexities of their recovery process.
Alongside thorough and appropriate health assessments with laboratory testing, she uses customized naturopathic treatments to support each patient in their own unique healing. In every case, Elena works to gain an understanding and awareness of the personal experience, and tailors each treatment to reflect that experience.
Elena is dedicated to compassionate care, ever-working towards strengthening and balancing the body and mind.