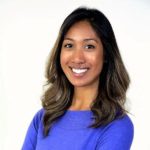 Dr. Kamala Sivasankaran ND
Naturopathic Doctor
Available for virtual appointments, and select in-person appointments
Dr. Kamala Sivasankaran, ND runs a general family practice, often working with people who are experiencing anxiety, insomnia, hormonal concerns and digestive issues. She loves empowering patients through education and teaching them how to make wellness changes that can be sustained for a lifetime.
Initial consultations explore a detailed case history of all factors affecting your current health. This may include questions about energy, digestion, sleep, foods you eat, stress and your medical history, as well as some physical exams. Routine or specialized lab work and other tests may be suggested to gain an "insider's look" at what's really going on. If you have any relevant lab or imaging reports, you are welcome to bring them in as part of your consult. You'll receive a treatment plan based on your unique situation, lifestyle needs and goals.
With a background in biology and health sciences, Kamala values a combination of both traditional and conventional approaches to medicine, prescribing natural therapies that work in tandem with whatever conventional treatment(s) you may be taking. Treatment plans can include therapies such as acupuncture, herbs, specific nutrition guidelines, rehabilitation exercises, natural supplements, hydrotherapy, counselling and more. Your plan is specifically designed and constantly tailored for you.
Dr. Kamala Sivasankaran, ND is a board certified naturopathic doctor in good standing with the College of Naturopaths of Ontario and graduated from the Canadian College of Naturopathic doctors in 2015. She is an experienced fitness trainer and obtained her Certified Strength Training and Conditioning Specialist designation through the NSCA in 2012. Kamala is also a project manager at the University Health Network, facilitating digital health initiatives for patients and clinicians.